In a recent documentary I watched about Target, they called pregnant women a goldmine. This is absolutely true. Crazy pregnancy hormones can turn the most reasonable woman into a crazed hoarder. They call it "nesting" probably because "hoarding" sounds insane (but it
is
insane). I was no exception. You would think I was preparing for the apocalypse. I bought 4 cases of newborn diapers. Why? I don't have any idea what I was thinking. I only managed to use one case before my son was busting out of the seams. (I switched to cloth shortly after this too). The other problem with buying when you are still pregnant is you have no freaking clue what you really need. You just have to guess. Every parent and every baby are different, so just because these things worked for me, doesn't mean they would work for someone else. That being said, here is a list of things that I could not live with out and things I wish I hadn't wasted money on:
Must-Have #1:
Wrap-style Baby Carrier
The most popular brand is the Moby Wrap. I have a Sleepy Wrap- same thing. It is basically a very, very long piece of stretchy fabric. I bought mine at a consignment shop for $20 after buying many other types of carriers and disliking them. These look really intimidating because you have to criss-cross the fabric around you in a certain way, but I promise after a little practice it is really easy. I love it because it is so versatile. You can use this on a brand new baby, a toddler, and any stage in between. You can use a variety of different holds with it too and there are tons of Youtube videos showing you how to do it. It is also really comfortable for me and my baby and it holds him snug enough that I can feel confident using my arms for something else. The only drawback is the fabric is almost like thin sweatshirt material so it can get toasty during the Texas summer.
Don't Need #2: Traditional Baby Carrier
I spent a lot of money on a Lillebaby carrier (similar to a Baby Bjorn). I just did not like it. Westin was uncomfortable, I was uncomfortable, and he never felt like he was secure in there. Some people love these, I wish I hadn't wasted my money on it.
Must-Have #2: In-Step Jogging Stroller
I L-O-V-E this stroller. It is easy to fold/ unfold, it can handle pretty rugged terrain, the swivel wheel makes it very easy to manuever, and it is very affordable. The BOB strollers are probably the most popular jogging stroller and they are great but very pricey. This is about $150 brand new compared to the BOB's that run about $350-$400. Westin is happy and comfortable in it too.
Don't Need #2: Fixed-Wheel Jogger
I tried to save money by buying a used jogging stroller at a consignment sale. I didn't really notice that the front wheel was fixed (doesn't swivel). This drove me absolutely crazy... not only was it very difficult to steer, it veered off to the left no matter what I did to adjust it. Apparently the fixed wheel is better when you run with it, but I jog/walk and the swivel wheel is much more convenient. I think a stroller is used so much that you want to spend the money to get a good one.
Must Have #3: Sound Machine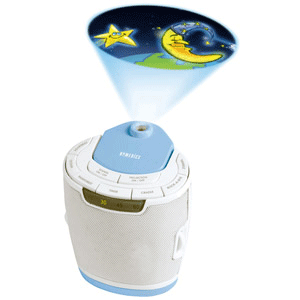 I have a Homedics Sound Spa and love it. This was actually a baby shower gift and I kind of forgot about it by the time Westin was born. It wasn't until I was at my wit's end trying to get him to sleep through the night that a friend recommended a sound machine that you could play continuously. Then it dawned on me that I already had one. It plugs into the wall so you can play it all night without worrying about batteries. You can also set a timer. It has a light projector that has different images, but I don't use it... It seems to just keep my son awake. The ocean and rain sounds are my favorite. It also has heart tones, which I imagine newborns would like.
Don't Need #3: Sooth & Glow Seahorse (by Fisher Price)
This is a little stuffed animal that glows and plays "soothing" sounds. It is supposed to help babies sleep but the music is too loud and it starts and stops every few seconds which is really distracting to a sleepy baby.
There are a million other things I could write about, but I will save it for another day. I hope some "nesting" pregnant woman finds this helpful.